English Maiden from the 11th Century
This maiden's garb is inspired from drawings of costumes from the 1200's in England. Modified to make the most of the lady's tiny waist, this fitted surcoat/undergown combo is excellent for those of you with narrow frames.
Inspiration
Inspired by drawings from Costume 1066-1966 by John Peacock and various romantic paintings on the period.
Design Sketch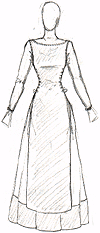 The standard underdress/surcoat combination was modified in this case to make the most of the lady's tiny figure. A typical underdress with long slender sleeves was created using a heavy cotton, with a fitted surcoat of chiffon velvet. The sides of the surcoat were grommeted and laced tight to the body with decorative satin cord. A wide border of the surcoat fabric was planned for the hem of the underdress, but we ran out of fabric for that. The use of a rich fabric for the surcoat and decorative cording with pearls at the neckline and wrists dressed up this rather plain design. The addition of a Juliet cap covered in the velvet and decorated with pearls and ribbons added greatly to the presentation.
Pattern Highlights
For an adept costumer this is a rather simple project. The main challenge was getting the fitted surcoat to properly accentuate the lady's form. A taping was used to get the pattern shapes for the lady's torso. The surcoat ended up having six panels. Because the back of the underdress was covered with the surcoat, an invisible zipper could be used on the back of the dress instead of ties or grommet closures.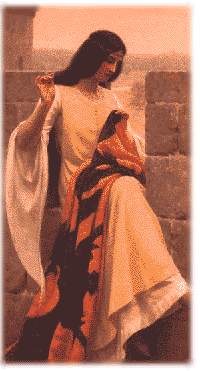 Inspiration
Romantic Painting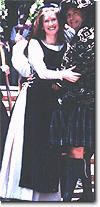 Finished Garment
English Maiden